The difference between Majestic Colonial, Majestic Elegance and the Majestic Mirage
What is the difference between Majestic Colonial, Majestic Elegance and the Majestic Mirage in Punta Cana? With some great Black Friday Travel Deals about to be released to the Majestic Resorts in Punta Cana, I thought I would share my thoughts on the differences between the Majestic Colonial, Majestic Elegance and Majestic Mirage Resorts. I may be a little bit biased as I believe these resorts provide the best value in Punta Cana.
All three resorts are located side by side along the beautiful Bavaro Beach about a twenty-minute ride from the Punta Cana airport. Each resort provides its own identity and ambiance with individual restaurants, bars and spas. The only exception is Caribbean Street with shops, Casino, Sports Bar, Kids Club, Theater shows and Disco shared by all three resorts.
The Majestic Colonial was the first Majestic Resort in Punta Cana, however with a complete remodeling in 2017 the resort is no longer the oldest of the three resorts. This hotel caters to families, couples and groups. Rooms are broken up into two separate areas commonly referred to as the Family Section and the Adults Only (18+) Colonial Club. Each section offers different room categories to meet you needs. We find that the Majestic Junior Suite (Swim up) are the most requested. There is something nice about being able to walk right out of your room and into the pool.
The Family Section includes rooms that can accommodate up to 4 adults/children with connecting rooms available upon request. Room Service is available form 7am -11am and is included in the higher room categories. Guest have access to the resorts 7 restaurants and 11 bars. 5 of the restaurants are a la carte, with only the Gourmet and Teppanyaki Japanese restaurants requiring reservations. My personal favorite is Tres Carabelas, which is an open-air restaurant located in the beach palapa. You can't beat the relaxed environment overlooking the beach, palm trees and ocean.
The Adults Only Colonial Club is a resort within a resort and provides an upgraded vacation experience. Starting with private check-in at VIP Private Lounge featuring Hors d'oeuvres, refreshments, alcoholic beverages, newspapers and business center, 24-hour room service, two private pools with Bali beds, access to three additional bars (two swim up) and a private beach area with Bali beds and its own bar. The 316 suites are limited to two people and include in room bar with welcome bottle of Champagne and 4 bottles of liquor per stay.
Majestic Resorts Caribbean Street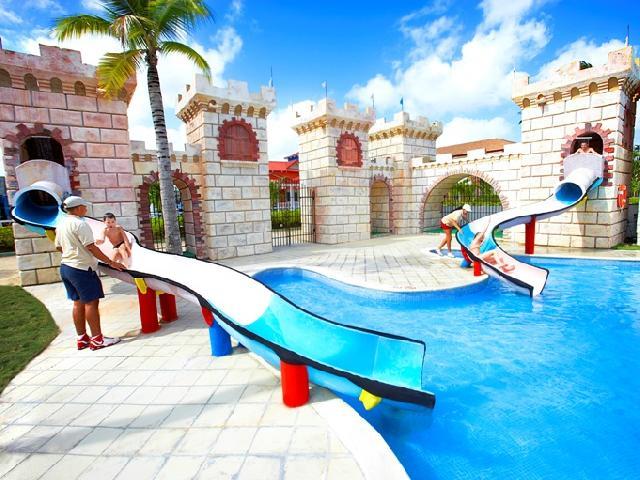 Caribbean Street is a common area located between the Majestic Colonial and Majestic Elegance. Guests of all three Majestic Resorts have full access to the shops, restaurants and activities located on and around Caribbean Street. Shops include a full-service pharmacy, mini market, souvenir shops, boutiques and cigar store.
Splash Kids Club (9am-6pm) features a fully trained staff for children 4-14 featuring three themed pools with water slides, a variety of games, closed air-conditioned area, movies, Nintendo games and a mini disco.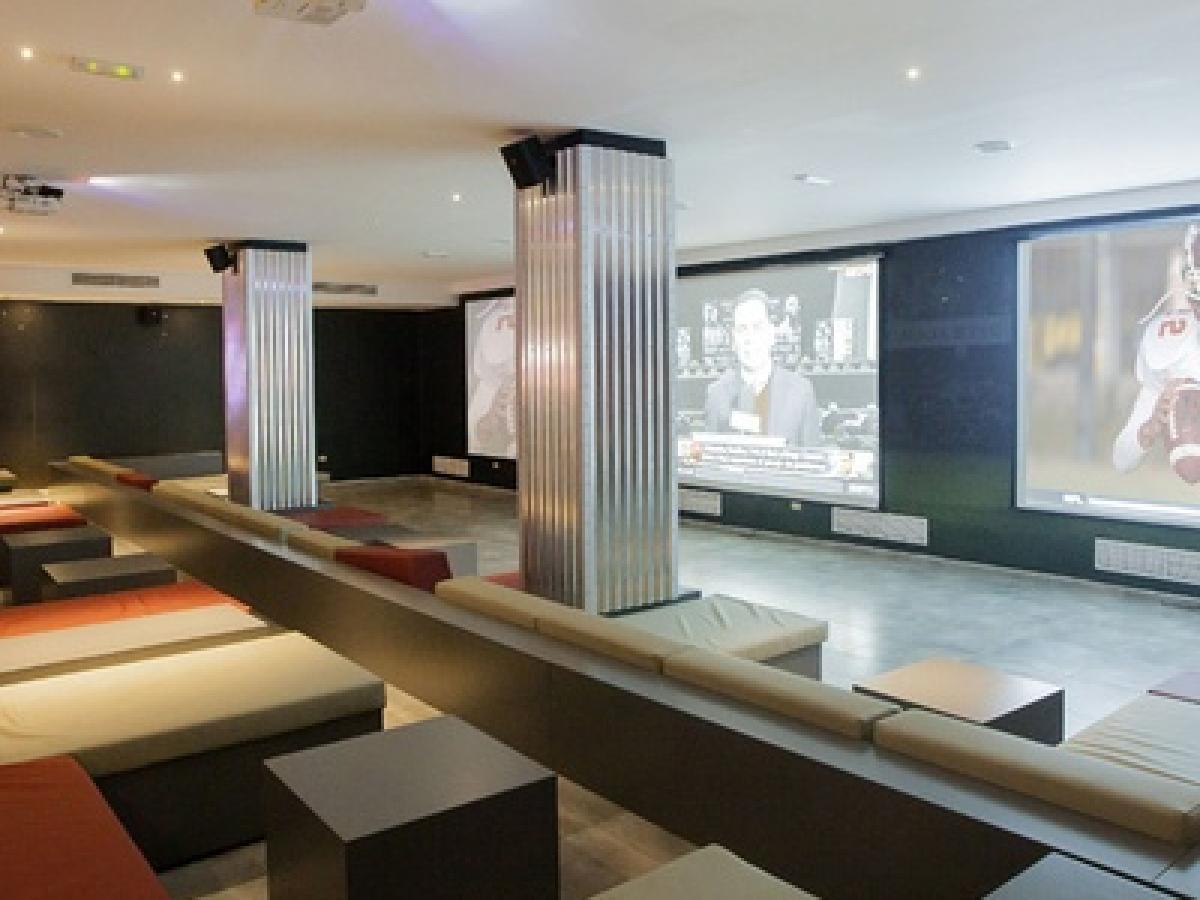 The popular Sports Bar featuring 3 theater sized screens and additional TV's throughout featuring live sports action and full bar.
The Majestic Casino where you can try your luck on American Roulette, Black Jack, Slots and Poker.
A full-service Health Center is available 24 hours a day, 7 days a week. Doctors stand by ready to assist you with any needs you may have. Medical treatment can get expensive and may not be covered by your insurance. Travel Insurance can take the bite out of any unforeseen medical expenses.
Next to Caribbean Street you will find Discotheque Coco's which is in the Mirage Elegance and is available to guests of all Majestic Resorts 18 years old and up. The club opens at 11:00pm with DJ spinning tunes till the wee hours.
The Majestic Elegance is also designed for families, couples and groups. Guest have their choice to dine at seven different restaurants including a late-night snack bar. The See & Sea is a great choice for breakfast, lunch or dinner. This beachfront location allows you to take in ocean views and feel the warm Caribbean breezes. One of my favorite areas is the wine tasting area located inside the Il Botaccio restaurant. Here you can taste wines from around the world. Some wines do have a surcharge and it is well worth it. The Majestic Elegance Resort features 597 rooms separated into two completely different sections.
The Main Section is geared towards couples, families and groups. Rooms can accommodate up to 4 adults/children with 1 king or two double beds. You have a choice of several room categories depending on your taste and budget. Here again, the swim up Majestic Junior suites are very popular. Handicap/Accessible rooms are available in this section upon request.
The Elegance Club is designed exclusively for adults (18+) and offers privileged access to the best locations of the resort including two exclusive beach areas with bar service, 4 private pools with a bar, two beachfront air conditioned lounges serving light snacks along with drinks. The 315 suites include 24-hour room service, welcome bottle of Champagne, private bar with 4 bottles of liquor per stay, personalized butler service and upgraded amenities.
What is the Difference Between the Majestic Colonial and Majestic Elegance?
To be completely honest, not much. I recommend seeing which resort offers the rooms you are looking for at the best price. The Majestic Colonial's main pool is livelier and a big attraction for families. The Majestic Elegance tends to be a little quitter and more attractive to couples and adults. With each you will receive the great vacation value that Majestic is know for.
When Majestic added their latest resort, the all-Suite Majestic Mirage, they decided to provide the upgraded vacation experience throughout the resort. Upon arrival, adults will be greeted with champagne, families will be brought to a private check-in area, greeted with refreshments and the kids have a play area to keep them occupied. You will then be escorted to your room by your private butler who will be available to you throughout your stay.
For a quick run down of the resort, the Majestic Mirage features 8 private pools lined with Bali beds with 4 swim-up bars. There are two VIP lounges, with business areas, snacks and drinks. On the beach enjoy private areas with Bali beds and bar service. The property offers a choice 14 different bars (3 bars are exclusive to Adults only) serving upgraded drink options and 9 restaurants. Guest receive a bottle of champagne upon arrival and enjoy an in-room bar with four bottles per stay.
The resorts cater primarily to adults with two buildings dedicated to families and 5 buildings dedicated to Adults only. The two areas a separated by a natural fence. Clients staying in the adults only section also enjoy exclusive access to La Rinascita restaurant for a la carte breakfast and lunch.
Where the Majestic Mirage really shines is in the rooms. The large (1000 sq ft) suites include Jacuzzis, separate bedroom areas. As with the other Majestic resorts, the swim out rooms are very popular. To sum it all up, if you are looking for an upgraded vacation experience, we recommend the Majestic Mirage. Similar experiences are available at the Colonial Club and Majestic Club as well.
Which is the Best Majestic Resort for Adults?
The rooms at the Majestic Mirage are fantastic. However, for adults, the Colonial Club and Elegance Club do provide the same amenities as the Majestic Mirage. The swim up bars at the Majestic Elegance and Colonial are rather social and fun. I personally do tend to tip my hat to the Majestic Mirage. I like the fact that upgraded services are provided throughout the resort. When I am looking to get my party on, I can still head down to Caribbean Street, hit the Casino, Sports Bar and Disco.
Best Majestic Resort for Romance
If you are looking for a romantic getaway, without a doubt, it is worth every penny to upgrade to the Majestic Mirage, Colonial Club or Elegance Club. The Majestic Elegance and Majestic Mirage do tend to cater to adults and provides a slightly quieter more relaxing environment than the Majestic Colonial.
Best Majestic Resort for Families
For families, the Majestic Colonial offers a more vibrant atmosphere. The main pool tends to be livelier and attracts families and children. For families looking for an upgraded vacation experience, the Majestic Mirage provides upgraded services and amenities.